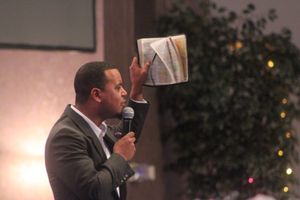 We live in a society which places premium value
upon things which make our environments more comfortable, our daily task easier, our schedules more manageable, and our lives as effortless as possible. We have been dubbed the "micro-wave" generation. Every city street is filled with "fast-food", our homes our filled with the fastest internet, and cell phone companies are constantly inventing the most advanced "smart phones". In the church of Jesus Christ, I'm afraid that this same spirit of ultra-ease has crept into the lives of many believers and into the very fabric of our churches. In the bible, Jesus taught a radical message that to become His disciple, men must embrace a life of self-denial, of putting themselves last, and serving the least, last, and the lost. It seems that the message of the grace of God has been misapplied, misinterpreted, and as a result we are at risk of being misguided and our message misunderstood. The bible teaches absolute truths concerning the plan God has set forth to redeem our souls from the bondage of sin. While many treat the grace of God as a casual thing, the bible actually teaches grace as a supernatural essential, given to promote a life of surrender and devotion to the Lord Jesus Christ. In this message I pray you are enlightened and place faith in God's grace. May the spirit of the living God, captivate your thoughts and arrest your affections as a result of hearing.
To help us sustain and continue this ministry prayerful consider giving financially so that we can continue to offer these resources for free.