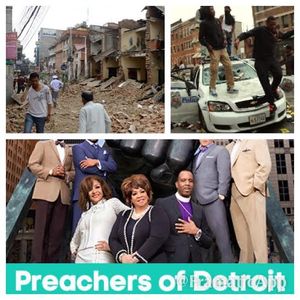 Long ago I read a book by Leonard Ravenhill entitled "Why Revival Tarries". In this book the Spirit of God convicted me deeply of my need for prayer. I recall not being able to make it through more than 6 pages, before I dropped to my knees as a 20 year old sophomore in college, repentant, and almost certain I was not truly converted. Ravenhill's word's carried so much power, though the book had been written nearly 60 years prior. I remember weeping through the chapters and God writing His word on my heart with each turning of the page. To this day, I have scarcely come across any resource produced within the past 20 years that has had the same impact on me. In fact, most of the books I read today were written long ago. It seems these days we have figured out how to grow our churches and gain more followers to ourselves, but in the midst of our mega-church culture, very few follow closely to the lamb of God. From time to time I watch Christian television and more often than not, the preacher is giving instructions on how to improves ones self, get past all of their haters, and how to make lots of money. The music production, the arena's and cathedrals where these shows are filmed are quite impressive, but sadly, my heart is never moved... at times my emotions are stirred but conviction of sin and provocation toward holiness has almost never been the result.

This troubles me, and here's why: we live in a world which needs the Leonard Ravenhill's, the voices of God, who like John the Baptist cry out from the wilderness "Prepare Ye the Way of the Lord". We need prophets. What we have by and large is "profits" who have the gift of prophecy, but there is a major difference between someone who operates in the true biblical authority of a prophet and someone who has learned how to prophesy, sound like they are prophesying, or tap into the realm of the demonic were familiar spirits seduce many with words of knowledge given by demons, which serve as bait for the heretical teachings that follow. 

We live in a society which is crying out for the word of the Lord. The streets of Baltimore are wounded, the people are confused, the families are destroyed, the cities are burned with fire, the churches are full of compromise and delusion... and all this goes on with few seeming to notice. In prayer I have been heart broken over this. I ask the Lord, what must be done to fix this, and the divine response comes from Ezekiel 22:30 where the Lord states "I sought for a man among them who would build up the wall and stand in the gap before, so that I might not destroy the land, but I found no one". In other words, God was describing to Ezekiel the lack of prophets. A basic definition of a Prophet is "one who speaks on behalf of God". And what God was saying that in the midst of the generation of compromise, suffering, idolatry, and confusion, I can't find anyone to partner with me, anyone willing to build up the walls which have fallen down. I believe God is asking the same question today. He's asking it through the whisper of the holy spirit calling us to prayer, He's asking it through the preacher who pleads from the pulpit on a weekly basis for men to be reconciled to God, in so many ways, the eyes of the Lord are scanning America today, looking for a man who is willing to proclaim the word of the Lord, so that mercy would triumph over judgment. The definition of prophet is not only one who speaks on behalf of God, but one who is a friend of God. Like any true friendship, God desires to share His heart with His friends. Friendships which are healthy require time, a listening ear, and a willingness to do whatever it takes to ensure the well being of the other. Prophets are this to God. I believe what has opened the door to the false prophets in the house of God is a false understanding of God. If we see God as a mean, distant, disconnected God, then the role of the prophet is lessened to a great degree. But just as John the baptist said of Himself "I am a friend of the bridegroom, I stand and hear His voice and in this my joy is full...." God is looking for Friends to prophesy. Leonard Ravenhill whose book I read long ago, carried so much authority, not because of his fame or fortune, his reality TV show, or his theological profundity, but because of obvious and deep intimacy he had with the Lord. Ravenhill was a man of prayer and because of that he became a prophet, or in other words, he became a friend of God. 

Jesus taught in John 15:15 that the difference between a servant and a friend of God was the knowledge of His will."No longer do I call you servants, for a servant does not know what his master is doing; but I have called you friends, for all things that I heard from My Father I have made known to you." Those who would call themselves "prophets" these days are absolutely unaware of what God is doing in the earth and what the church must do in this hour. This is not because they don't have the gift of prophecy, it's because they aren't friends. Because they are not friends of God, they lack the heart of God, and therefore minister from their flesh and soul, able to enlighten the mind, stir the emotion, but unable to transform the heart. This must change and through prayer and fasting it can and will.

In conclusion, I think maybe this blog should have been titled "Are there any Friends of God in the Land", because a prophet is just that. Until our hearts truly break for the burden of God's heart for a lost and dying world, until we can say from a place of genuine conviction that our lives are totally spent for the cause of Christ, there will be no revival. Until we, as preachers can turn down the lure of money and fame, in exchange for the eternal honor of knowing God deeply, we will have no revival. Until the TV networks of our day can no longer bait us with million dollar contracts to make a mockery of our gospel and bring reproach to our God, then we will see no revival. Until our churches can place as much emphasis on the altar call and deliverance as we do on our building projects and offering appeals, we will see no revival. Until we as a church  fear God, more than man we will see no revival, until we as the church can no longer live in peace while our world is being torn apart by war, we will see no revival. Until the preacher begins to weep as he drives through the drug infested community where he ministers, we will see no revival. We may fill our services with good entertainment and with people, but there are many blank pages, yet unfilled in the lambs book of life. My prayer is very simple: Lord, count me worthy of friendship, that I may prophesy, that I speak as one who has "seen and heard, touched and handled", may tears precede and follow my fiery preaching, and more than anything may my actions speak louder than my words. God is looking for a man or a woman who will say yes to friendship. May we be those who willing lay it all down for Him. In Jesus name.